Mt. Cook is a place where we would love to climb, so we decided to do so.
Beginning of May in Central Europe means blooming gardens and orchards, longer and warmer days, bees buzzing around the pink-flowered cherry trees where a random couples kiss in order to preserve their love forever. May is a month when the spring is on its peak and you definitely agreed with yourself that it´s warm and dry enough to start hiking in the ankle-high approach sneakers (some braver ones even in sandals) from now.  Well, the thing is that we live in the southern hemisphere where everything is the other way round…but it actually feels totally UPSIDE DOWN!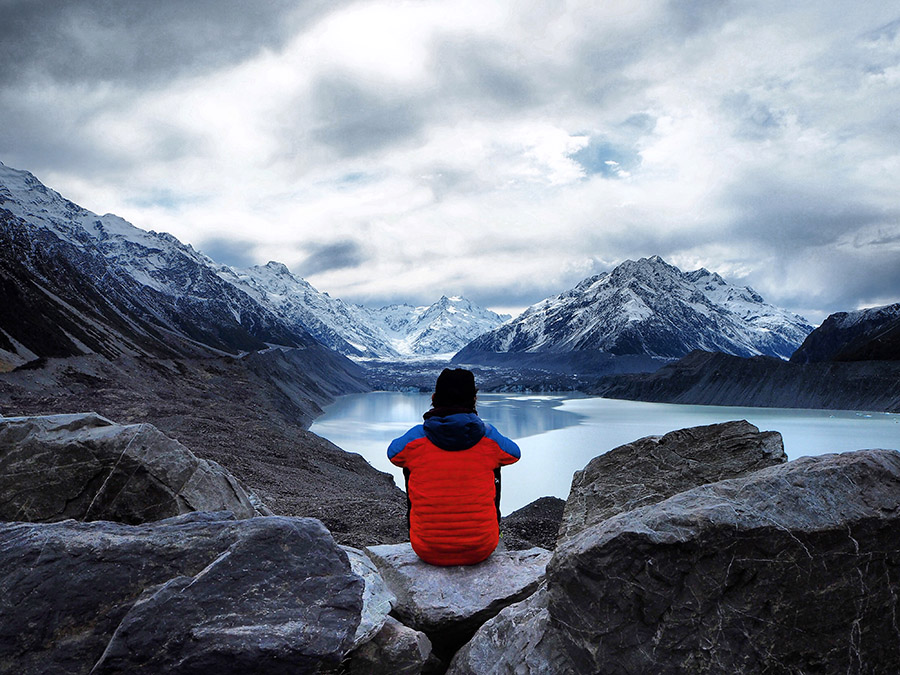 May in New Zealand didn´t start ideally when it comes to the weather and instead of bringing the sandals out of my closet I put my puffy down jacket on every time we went climbing to keep myself warm enough and at least to pretend that May actually used to be my favourite month of the year. From the 3rd May we happened to have a week off from work and even though the weather forecast didn´t sound very positive it magically changed literally overnight! So instead of waking up into gloomy Friday we got straight up to lovely and sunny Friyay! We packed the gear, had a quick breakfast and hit the roads with our beloved campervan fully prepared to spend an awesome weekend in Mt Cook National park which is only 2,5 hours of drive from our base – Wanaka – equally adorable mountain town.
We arrived to Mt Cook in the late afternoon and settled in the campground provided by DOC (Department of Conservation) and were absolutely overwhelmed by the stunning views of Mt Seffton which according to the legend is a guardian of the first lady of New Zealand – Aoraki a.k.a Mt Cook.
We quickly put on an extra layer of merino and hopped on the Hooker Valley Track (one of the most popular walks in NZ) to see this legendary beauty in the last rays of sun. It´s a short 10km (return) track ending at Hooker Lake which reflects the south face of Aoraki in its full beauty. Totally speechless we watched the sun setting slowly down and silently dreamt of climbing this beautiful beast one day…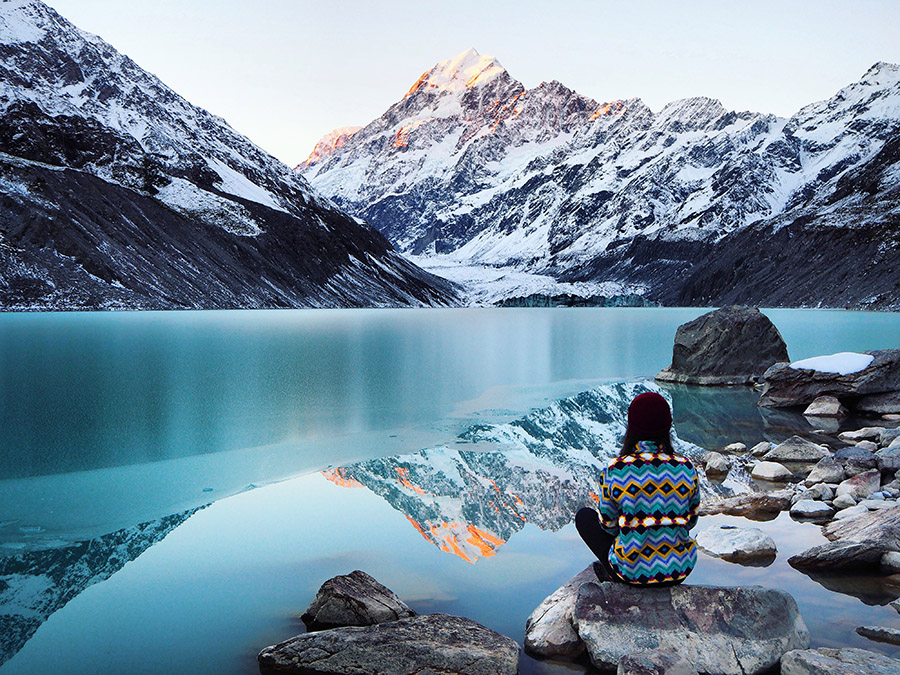 After a cold night in campervan we woke up to equally beautiful day than the day before. We forced ourselves to leave our warm and comfy sleeping bags to make some tea and breakfast and drove back towards the Mt Cook Village to get on the slabby crags of Mt Sebastopol.
Sebastapol Bluffs are located on the west side of state highway between NZAC (NZ Alpine Club) Hut and Mt Cook Village. One of the best quality lines are the bolted slab routes in the  Red Wall. The quality of rock can be quite variable as we found out the other day and it´s different in every crag.  We chose "Red Aréte" as a warm-up route to start with, which is supposed to be "the nicest gr.15 (4+ UIAA) route in the South Island" developed by famous mountaineer Tom Fyfe who became the first climber to reach the summit of Mt Cook on the Christmas Day in 1894 altogether with Jack Clarke and George Graham. The "Red Aréte" has 4 pitches and it is fully bolted nowdays. Great quality of the rock and some decent moves for the lower climbing grade convinced us that it is a spectacular route indeed! Not even mentioning the views we got to see from the wall…What a blast!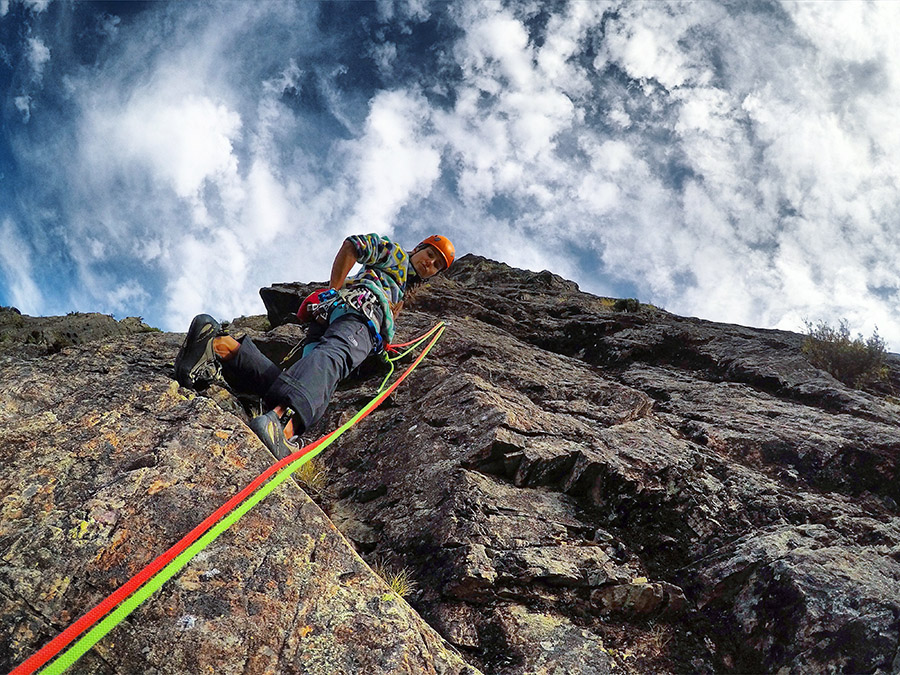 After that we climbed another two routes "Shark attack" and "Mako" both grade 16 (5+ UIAA) with two pitches in each. Likewise the "Red Aréte" both of these lines were perfectly bolted slabs with a great quality of rock and nice moves. We would definitely recommend all of these routes to anyone who either is a begginer/intermediate climber comfortable on the sport routes around grade 5 UIAA and wants to get into multipitch climbing technique  or to anyone who just seeks lovely and chill climbs in beautiful environment and enjoys "climbing with a view".
Central Crags | Lunar Wall and the route Nicked" gr.18 (6+ UIAA)
On day 3 we woke up earlier and drove to Tasman Valley. We took a quick hike to Tasman Glacier and Blue Lakes (which are actually green) and not super impressed of what we´ve seen went back to the Sebastopol Bluffs to climb another direction in different sector. We went to the Central Crags and ended up climbing Lunar Wall where we made a quick decision to climb a route called "Nicked" gr.18 (6+ UIAA) as it was the only line which seemed to be the least dirty and the most "compact".  "Nicked" was incomparably more mentally challenging than the routes we climbed yesterday. Big runouts and loose rock in some pitches brought a bit of nostalgy in that day and we finally felt like climbing back home in High Tatras again. 🙂 The first four pitches felt a bit harder for the grade the last two were okey but fairly loose though. In the first crux pitch where the leading went onto me I learnt that taking my pre-historical Miura´s from La Sportiva with a hole in the left toe-cap wasn´t the best decision I ever made…Well, learning things hard way is the most efficient I can tell! 😀 Vlado´s crux pitch wasn´t less exciting either – tricky traverse which was everything else just not nice …After that we got through a small overhang to the last two pitches in the "excellent" rock which we shared with a high level of enthusiasm and finally reached the last anchor! We rappeled quickly back down and drove back to Wanaka full of unforgetable memories.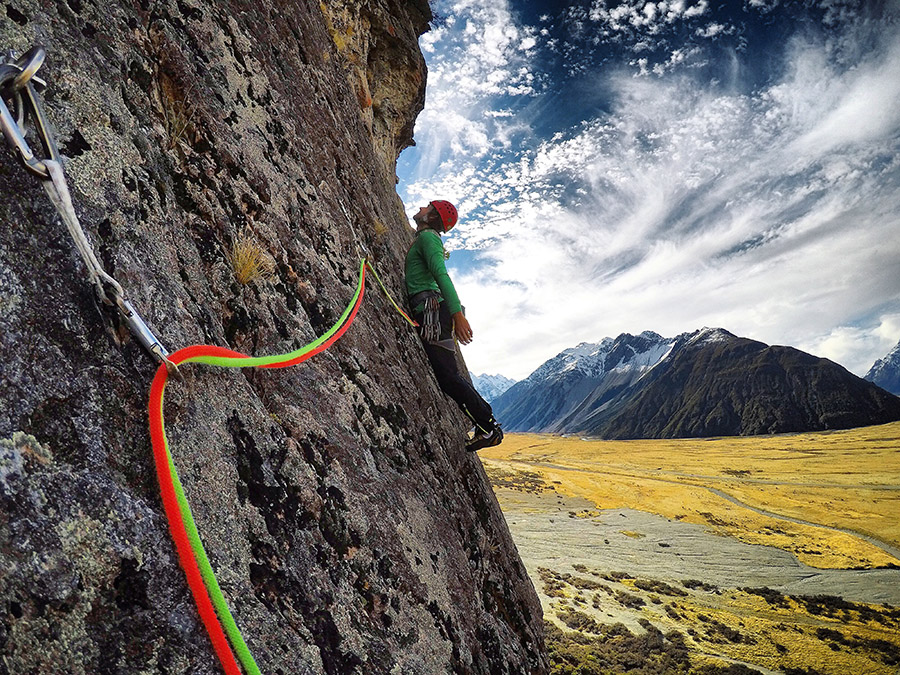 Used equipment:
Millet pants
Icebreaker second layer
Icebreaker base layers
Patagonia Synchilla Jumper
La sportiva Testarossa&Miura climbing shoes
Petzl Corax&Beal Venus Soft climbing harnesses
Beal Gully 2×7,3mm halfropes
12x Black Diamond quickdraws
Black Diamond Half Dome and  Petzl  helmets
Electronics: